How can I compare PDF documents quickly and reliably?
What exactly has changed, what is really the same? How often do you get back a document and are still uncertain about the changes? Why is it such a hard task to juggle with revisions edited by many authors? If you just want to see what happened, then PDiff is made for you!
Error-free.
With PDiff you won't overlook even the slightest deviations. You won't miss any legally or technically relevant difference.
Fast.
Even for long documents you see the results within a few seconds.
Objective.
Differences are clearly and precisely documented in the proof report, for optimal communication and archiving.
Precise.
Proofreading with diligence and with constant attention, even for completely changed layouts.
Easy.
No training required. Instantly use PDiff productively.
Efficient.
With PDiff you see the differences at a glance. You can focus on what matters most: examining and reviewing your texts.
How to compare PDF files with PDiff.
Drag two PDFs into the PDiff window and you will see all text differences in the unique synchronous display. Proofreading becomes seeing instead of searching.
PDiff finds the differences.
This works even if the fonts, layout, hyphenation or even page breaks have been changed.
Interactive instant comparison.
PDiff allows the interactive comparison of PDFs directly on the screen. Hover the cursor over a word and see the corresponding passages highlighted in both documents.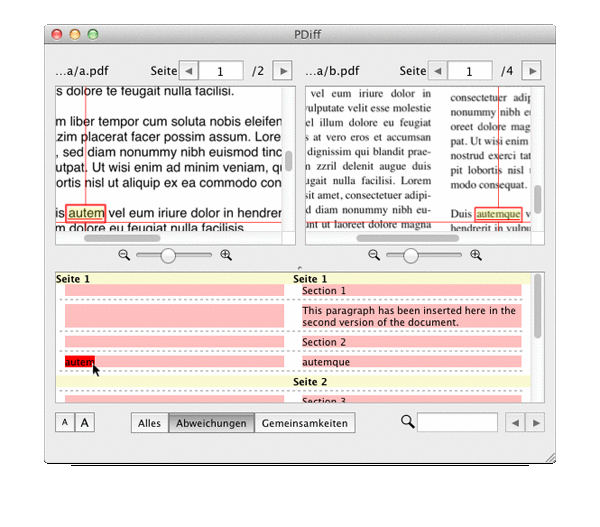 Documented QA.
Need proof of matches or the exact changes made? The reports document the results however you like.
Checking foreign-language texts.
PDiff comes with full Unicode support. You can also easily compare texts in non-Roman writing systems.
Support for DOC, RTF, TXT, and more.
PDiff provides an import mechanism for all common document formats. Formats other than PDF are converted auto­matically by calling their native applications.
Just right for your documents.
PDiff is an ideal solution to compare versions of your documents:
important office documents
mission critical technical manuals
legal texts and business contracts
financial reports
manuscripts and thesis texts
scientific articles, reports, and proceedings
fictional books and non-fiction books
copywriting to ready-to-print layout
Comparing apples and oranges? No problem!
With PDiff you can also compare documents where the layout differs widely: for example, check the print-ready layout against the copy text.
Special functions for packaging.
PDiff Professional also supports the comparison of rearranged texts. So you can check even complicated layouts of packaging against the original text. For example you can compare copy text with the text of a press-ready folding box that does not even have a defined text flow direction.

Did you know…
…that the English idiom to compare apples and oranges, as depicted in the PDiff icon, translates differently to other languages. Another common idiom - e.g. in French, German, Spanish, and Italian - uses the expression apples and pears to describe the comparison between dissimilar things.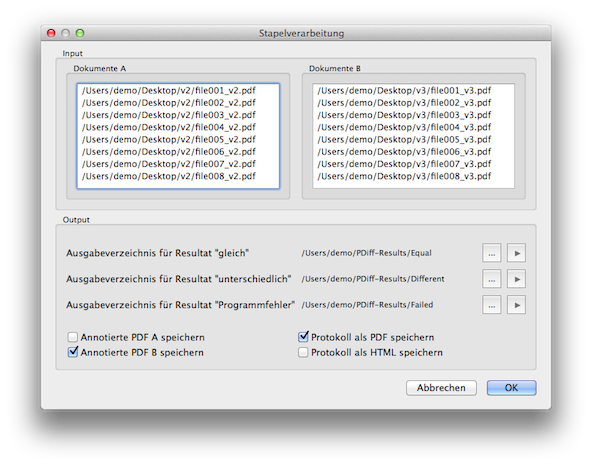 Automation for high data volumes. If you need to examine
large document collections: PDiff Professional can be completely automated, either within the GUI or even without GUI for integration with other software systems.
Batch processing in the GUI
A few mouse clicks, and the automation does the work for entire directories. Simply create PDF reports over all document pairs.
Automation via CLI interface
Do you plan to integrate PDiff into your workflow or call it from other software systems? Through the CLI interface, PDiff may be operated as a command line program. Hence, you can integrate the powerful PDF comparison seamlessly in every possible automation solution.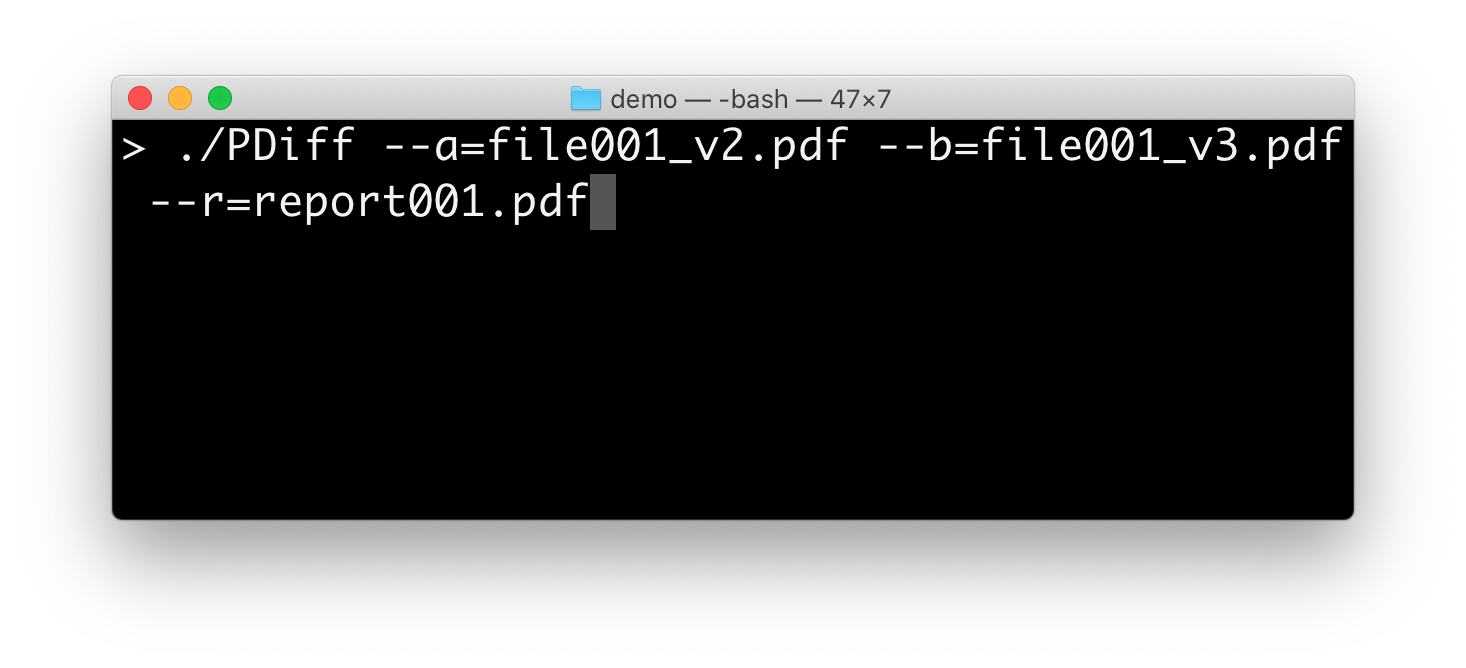 Powerful features.
PDiff provides powerful text comparison functions for viewing and documenting text differences.
Highlight text differences.
PDiff clearly shows changes, insertions, deletions, and rearranged text, even with varying document layout. Comparison handles layout changes (e.g. single vs. multi column), font, size and style changes, added hyphenation and different page breaks.
Synoptic text display.
Text synopsis display with synchronized text and highlighted differences.
Synchronized side-by-side display of two PDFs
See corresponding words in all displays by hovering over the text.
Proof reports as PDF or HTML/XML.
Changes and/or similarities are documented comprehensively and unambiguously with position, text, and optional user comments.
Automation.
Check large document collections with batch processing or CLI calls.
PDiff uses the Adobe® PDF Library™.

PDF is a global standard for reliable electronic documents and ISO standard for archiving electronic documents. The Adobe® PDF Library™ ensures a platform-independent, accurate display and reliable and consistent text analysis.